The Waterfront Gallery is housed in the Old Sail Loft, a Grade II Listed building on the dockside at Milford Docks in Pembrokeshire and is widely considered to be one of South Wales leading art galleries. Fine art paintings in water colour, oils, acrylics, mixed media, drawings and print work are displayed alongside sculptures, ceramics, pottery, wood & metal work, textiles, photography, glasswork and jewellery.
This iconic building originally serviced the Nantucket Whaling ships that, in 1793, came to Milford to supply oil to meet the demand for street lighting in UK cities. The unique 3,000 sq foot gallery space now regularly showcases the work of some 50 local artists and craft workers together with visiting artists and changing exhibitions throughout the year.
The idea of an art gallery on the dock side was mooted as long ago as the late 1900's and a gallery was opened there as part of the redevelopment of Milford Docks by HRH Prince Charles in 1992. It wasn't until 2003 that this gallery was reborn as the Waterfront Gallery, a not-for-profit company, which received charitable status in 2008, under the stewardship of David Randell. The aims of the charity were, and are today, the promotion, support and development of arts and crafts in Pembrokeshire and Mid West and South West Wales.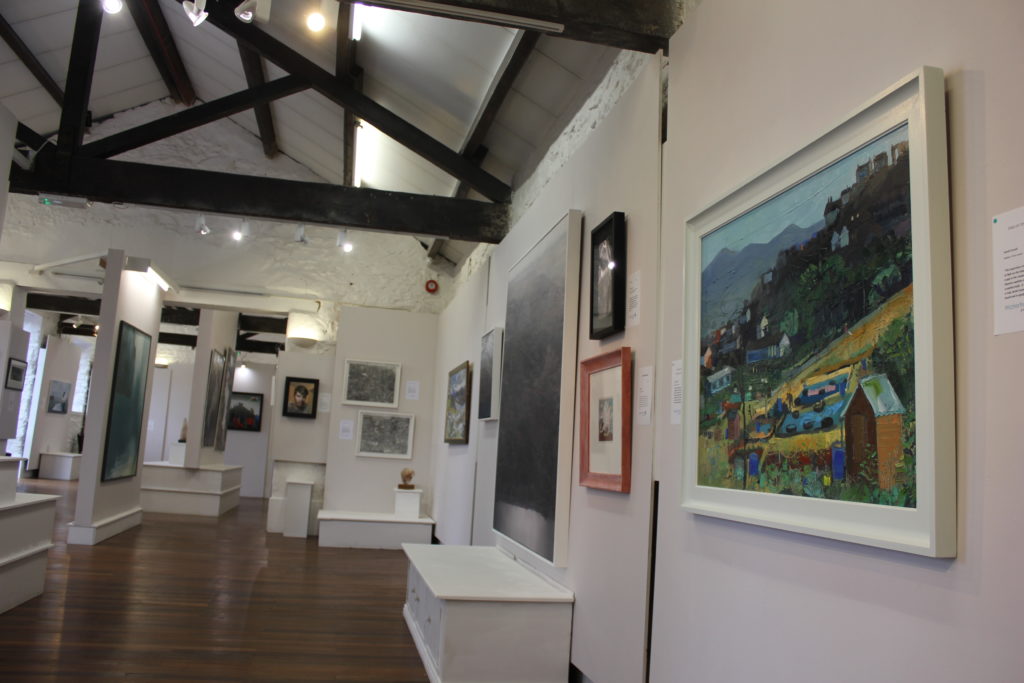 In early 2019 the gallery successfully submitted a bid for European Funding through Visit Wales for a very exciting project titled 'Inspired by Wales'. The project is threefold –
International arts competitions in 2019 and 2020 for two and three-dimensional works titled Wales Contemporary/Cymru Gyfoes with the brief 'Inspired by Wales / Ysbrydolwyd gan Gymru'. More information can be found at www.artopps.co.uk.
The development of 'Have a go' art workshop activities to attract cultural enthusiasts from the region on a year round basis, and those cultural explorers across the Visit Wales market segments. Working towards creating a partnership between the cultural and tourism economies of the area.
Aspiring to be a centre of excellence offering art internships within the gallery to develop the talents and experience of graduate students and college leavers thereby assisting and inspiring future generations
The Grade II listed building is the 2nd oldest building in the Docks and Milford Marina and is easily accessible by road, rail, bus and boat. There is ample parking and mooring close by and frequent train and bus services are a two minute walk away.