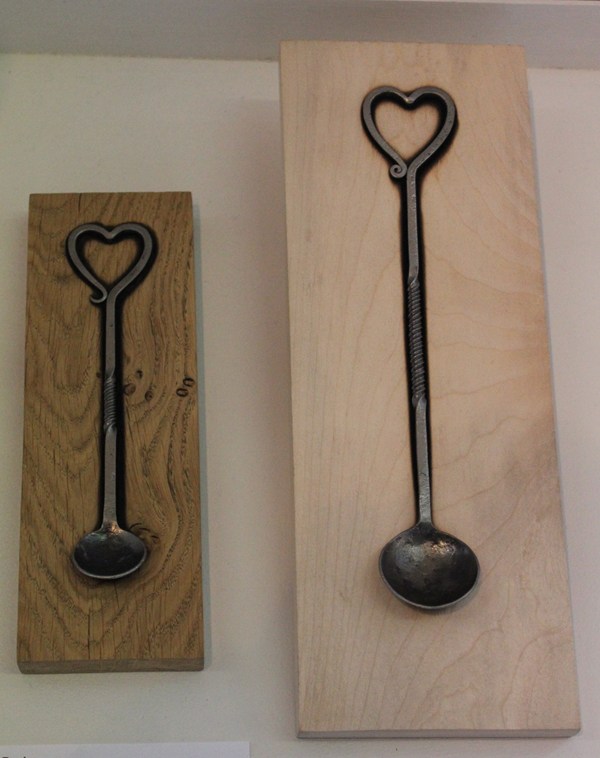 Having lived in Pembrokeshire for longer than he would care to remember, Mike now works from his home and studio in Manorbier.
He is a third generation blacksmith, and more recently studied Fine Art Sculpture (BA Hons) at West Wales School of the Arts in Carmarthen.
Mike has an incessant passion for working with wrought iron and steel. Most people will immediately think of these as being strong and heavy with uses extensively in Industry, cold and lifeless materials. Very few will associate them with the light delicate flowing forms that can be achieved with the forging technique.
When heated to forging temperature their characteristics change completely, allowing them to be manipulated into a desired shape. Once cold they become encapsulated in a new form. Forging breathes life and energy into a material, transforming it into inherently tactile objects. Handling the ironwork, feeling the different textures, enables you to experience the power and vitality of the workmanship.
It is this transformation that interests and inspires Mike to experiment with this body of work, using an amalgamation of traditional and contemporary techniques.
Choosing to create with discarded or reclaimed materials has been a revelation and proved an excellent introduction to working in other materials such as copper. Continuing to work with the properties and characteristics of materials Mike hopes to develop as an artist.