The Waterfront Gallery is housed in the Old Sail Loft, a Grade II Listed building on the dockside at Milford Docks in Pembrokeshire and is widely considered to be one of South Wales leading art galleries. Fine art paintings in water colour, oils, acrylics, mixed media, drawings and print work are displayed alongside sculptures, ceramics, pottery, wood & metal work, textiles, photography, glasswork and jewellery.
This iconic building originally serviced the Nantucket Whaling ships that, in 1793, came to Milford to supply oil to meet the demand for street lighting in UK cities. The unique 3,000 sq. foot gallery space now regularly showcases the work of local, national and international artists and craft workers together with visiting artists and changing exhibitions throughout the year.
The idea of an art gallery on the dock side was mooted as long ago as the late 1900's and a gallery was opened there, as part of the redevelopment of Milford Docks, by HRH Prince Charles in 1992. It wasn't until 2003 that this gallery was reborn as the Waterfront Gallery, a not-for-profit company, which received charitable status in 2008, under the stewardship of David Randell. The aims of the charity were, and are today, the promotion, support and development of arts and crafts in Pembrokeshire and Mid West and South West Wales.
The Grade II listed building is the 2nd oldest building in the Docks and the Milford Waterfront and is easily accessible by road, rail, bus and boat. There is ample parking and mooring close by and frequent train and bus services are a two minute walk away.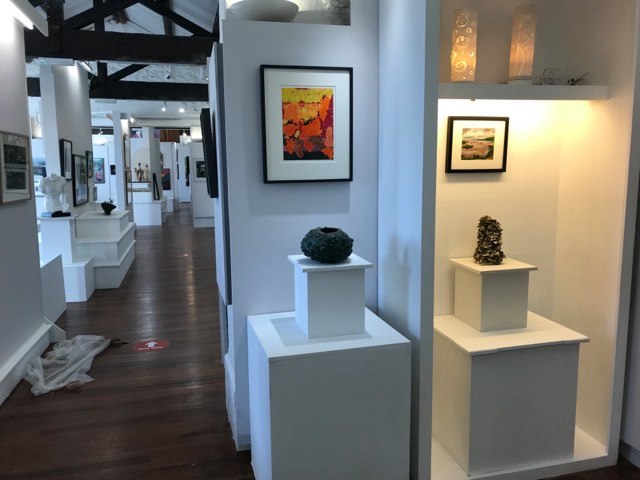 In early 2019 the gallery successfully submitted a bid for European Funding through Visit Wales for a very exciting project titled 'Inspired by Wales'.
The project included International art competitions in 2019 and 2020 titled 'Wales Contemporary/Cymru Gyfoes' for two and three dimensional works with the brief 'Inspired by Wales/Ysbrydoli gan Cymru.  Following on from the huge success of the 2019 competition, and the subsequent exhibitions in the Waterfront Gallery and the Mall Galleries, London, we were really proud to announce the 2020 exhibition, only to have our plans thwarted by the pandemic. However, this did not stop us hosting a virtual exhibition which could be accessed on line and proved to be very successful.  Now, in 2022 we are delighted to be able to show the 144 two and three-dimensional works selected by our judges, Rebecca Salter RA, President of the Royal Academy,  Morfudd Bevan, curator of the National Collection, National Library of Wales, and Jill Piercy, curator and author.